Selected Newspaper Features About Henry Harrison and Lillie Mayes
Misc
LIFE Magazine 1958
The Third Force in Christendom – LIFE Magazine, June 1958 (Read at Google LIFE Magazine Archive)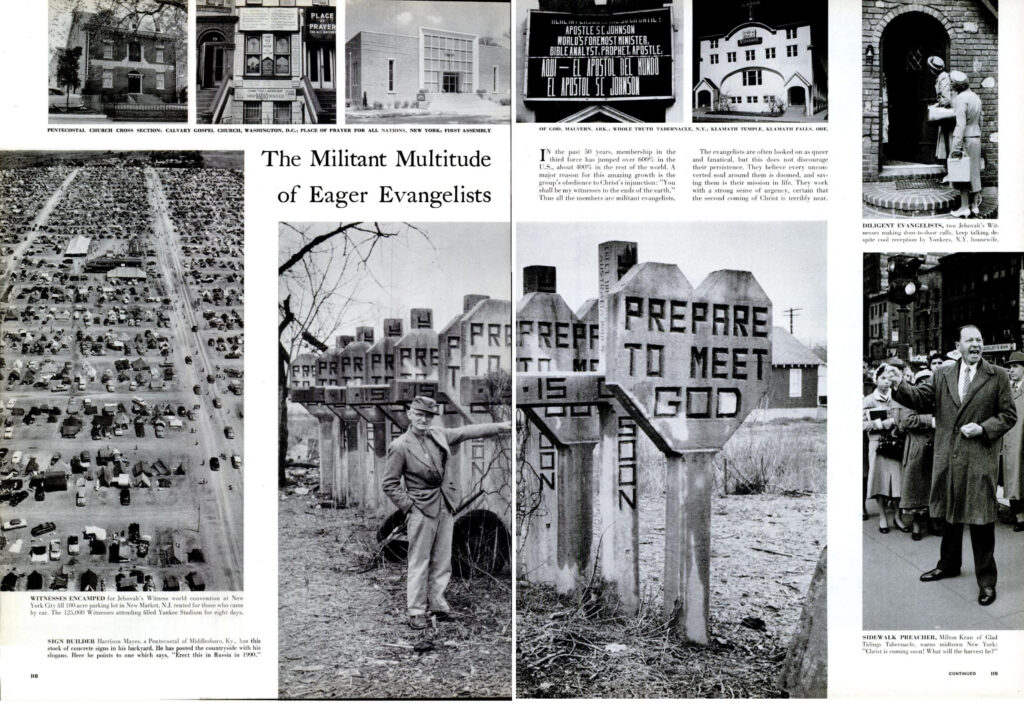 Interview with or about Brother Mayes by Eleanor Dickinson
National Geographic, 1971
There is just this marker in Totz, KY depicted in this edition of National Geographic.
In a demanding land that offers few rewards, religion provides sustaining comfort. This concrete sign, built to withstand the years—and, paradox­ically, the bullets that regularly pock it—issues its prediction near the town of Cumberland in Harlan County.
Similar messages adorn barns and boulders throughout the hills of Cumberland country.
The People of Cumberland Gap – National Geographic 1971-11-01
Foxfire 9, 1986
The Mayes got interviewed around 1985/1986 for the Foxfire books about the culture of the Southern Appalachian Mountains.
Read parts of the chapter "Two Men of God" on Google Books or buy the reprint (eBook available). Some editions of Foxfire books are available on Archive.org to borrow, but Foxfire 9 is not.
Looking Beyond the Highway by Martha Carver, University of Tennessee Press, 2006
Following the Dixie Highway from southern Illinois to Florida with side trips down other southern roads, the essays cover a wide variety of subjects, many of which will resonate with anyone who has ever lived in or vacationed in the South: Harrison Mayes's "Get Right With God" signs; the park-and-pray craze of outdoor drive-in church services; the rise and demise of brick highways; the fierce political battle over the route of the Dixie Highway; beach music and the evolution of motel architecture in Myrtle Beach; Florida's early tourist towers; and the commercial development of Tennessee caves as tourist attractions.

Looking Beyond the Highway: Dixie Roads and Culture. (2006). United States: University of Tennessee Press.
Read excerpts from the chapter "Get Right With God: Harrison Mayes's roadside advertising campaign for the lord" on Google Books
Harrison Mayes' Roadside Advertising Campaign for the Lord by Martha Carver, SCA Journal 18 (Fall 2000)
The original essay, used in "Looking beyond the Highway" by Martha Carver. Get a copy here on sca-roadside.org
Harrison Mayes' Roadside Advertising Campaign for the Lord by Martha Carver, SCA Journal 18 (Fall 2000)
With Signs Following, Photographs from the Southern Religious Roadside by Joe York, 2007
From hand-rendered folk signs to high-dollar church marquees, religious messages and imagery saturate the landscape of the American South. In With Signs Following, photographer and southern studies scholar Joe York introduces readers to the role of artistic, witty advertising in southern churches. In seventy black-and-white images of religious signs and other ephemera, he simultaneously presents the factual while encouraging reflection and introspection.
Though York's pictures speak volumes, With Signs Following features an equally compelling essay by York. This piece seeks the stories of the sign makers through informal interviews. The combination of images and text offers an insightful, humorous, historically grounded perspective on one of the South's most familiar scenes.
York, J. (2007). With Signs Following: Photographs from the Southern Religious Roadside. United States: University Press of Mississippi.
https://www.upress.state.ms.us/Books/W/With-Signs-Following
Work and Faith in the Kentucky Coal Fields: Subject to Dust, 2008
One unusual case in eastern Kentucky illustrates that a life could be changed fundamentally by a cave-in and the conversion that accompanied it. Harrison Mayes was mining coal in Middlesboro, Kentucky, when a loaded coal car ran out of control and crushed him up against the mine wall. Mayes, near death, asked God to save him—and in return, he promised to devote his life to ministry. Mayes lived. His ministry, however, took a creative form that was decidedly modern and decidedly in keeping with the sacramental and independent religious style of mountain tradition. He did not belong to a particular church or denomination but instead took his message to the public in 1918 by making signs that he placed on roadsides. They displayed messages like "Get Right with God" and "Jesus Is Coming Soon," and occasionally they revealed a leaning toward Holiness and Pentecostal theology, such as "Regeneration, Sanctification, Holy Ghost Baptism." He painted his first signs but soon started molding them out of concrete. In the 1940s he began to put his enormous, heart- and cross-shaped concrete signs around the nation. By the time he died he had planted his signs in forty-four states and devised a plan to take his "Planetary Aviation Evangelism" into space by erecting his signs on other planets." While his story is certainly unusual, it is significant that an Appalachian folk artist whose work dots the American landscape began his ministry in a sudden religious conversion in the midst of a mining accident.

Callahan, R. J. (2008). Work and Faith in the Kentucky Coal Fields: Subject to Dust. United States: Indiana University Press.
Weird Kentucky, Travel Guide, 2008
Southern Accent (Book)
Short portrait of Mayes on page 34-35
Download Publisher Website: https://www.dukeupress.edu/southern-accent
The Serpent Handlers: Three Families and Their Faith (Book by by Fred Brown, and Jeanne McDonald)
Mayes' misspelled as Harrison Hayes in this book about serpent handlers from Middlesboro, KY.
Yet to find: